Activities of the Hard-Core Unemployed
How many CDs can be labelled with one sharpie?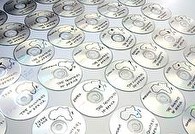 In an experiment aimed at determining qualitatively how much ink is inside a sharpie, the How Much is Inside people spent two days labelling CDRs with a single Sharpie. The answer:
The total was 968 CDs labeled with one Sharpie marker. You can view tiny images of the CDs on the gallery page.

I estimate the total distance marked to be 1,800 feet.
(
via Ambiguous
) [
Boing Boing
]
Posted by Vanderleun at September 19, 2003 11:38 AM